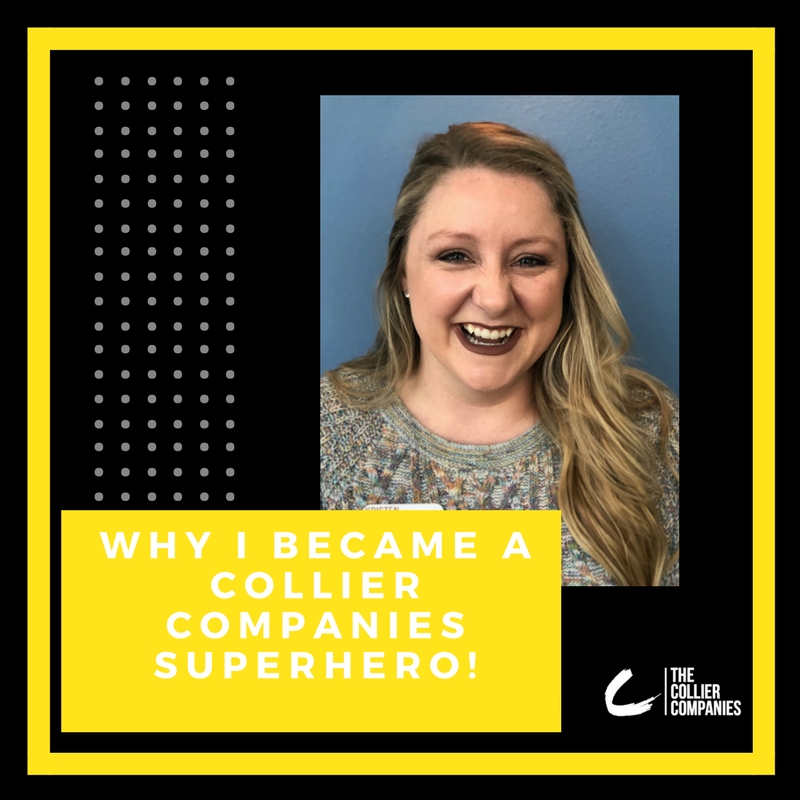 Published:
February 12, 2018
Joining a company that you love, that makes work always feel like a safe place is extremely important to the lives of us all.
Here at The Collier Companies, we strive to cultivate an environment that empowers, teaches and promotes continuous growth for all of our Collier team!  We don't refer to those hard-workers here as "employees", but as "team members", as we all work together for a common goal.
Every day our number #1 goal is the same; Make your homes the heart of our business.
"We Believe that everyone is a leader and our actions teach our belief systems." – Collier Companies Manifesto
Read more about Kristen, our Director of Sales & Leasing, and why she chose to be a Collier Companies Superhero!
Name/Position: Kristen Koon
Hometown: Lake City, FL
Education: University of Florida, Bachelors in Business Administration
TCC Anniversary: August 15, 2015
Employment history with the company:
I started my humble beginnings as a leasing specialist at College Manor.  From there, I was promoted to Lux13 (formerly known as Hidden Lake) as a Leasing Manager during a vital year for refinancing.  After a successful campaign there, I was then promoted to the Assistant Community Manager of College Manor and later College Park.  Soon after, I was given the incredible opportunity to be the Community Manager at The Landings. In August of 2015, I began as a Community Manager at LUX13 Apartments.  After having a successful year, I went on to finish the lease-up at IQ Luxury Apartments. In September of 2016, I was awarded the honor of being the Reposition and Lease-Up Manager for The Collier Companies to assist with our repositioning communities and work with our upcoming developments.  I am now the Director of Sales and Leasing working with our onsite teams to build leasing strategies, and overseeing our regional leasing team and brand ambassadors.
Why did you join TCC? : In the beginning, I started because I loved the idea of working where I lived and needed to support myself through college.  I've continued to choose The Collier Companies over the years due to the consistent values Nathan has instilled in our company culture.
What are some TCC Benefits that you love? : The passion for growth and the love for continuing education is what keeps me smitten with The Collier Companies.  Nathan's passion for growth individually, and as an organization, is a key principal on what TCC is built on.  Whether we are attending a local apartment association training, a conference, internal company training, or one-on-one training, we're encouraged to grow.  Nathan shares his knowledge daily to all of the company, each day we're offered a new opportunity to learn!
What's special about TCC? : What isn't special about The Collier Companies, honestly? We are offered endless of possibilities for growth.  You choose your own destiny within The Collier Companies. You're encouraged to set a goal, and work towards surpassing it. During my first year in Collier College, I was told to write a letter to my future self to open in 5 years. When I opened the letter 5 years later, the goals I had set for myself had been accomplished due to the encouragement of our companies unvarying leadership.  Nathan has built The Collier Companies leading by example. When you see the founder of such a great organization wade through a retention pond to pick up one empty can, you're in awe of the caliber of leadership and guidance set for this company that make us unique from so many others.
Your goals in TCC and beyond? :  I aspire to continue to grow as a team member personally and professionally, to positively impact resident retention and revenue growth, and most of all, to make a positive impact on each person I encounter.
Thinking about your next career move? Visit Collier Careers for more Information on joining our team!
The Collier Companies owns and manages over 11,000 apartment units in the states of Florida, Georgia, and Oklahoma. For more information about The Collier Companies, please visit https://colliercompanies.com.