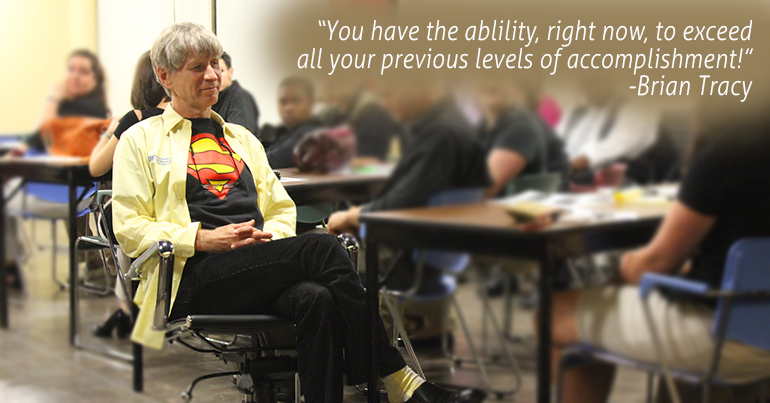 Nathan S. Collier teaching a class at Collier College.
OVERVIEW
Collier College is a program designed by Nathan S. Collier to encourage and promote continuous learning opportunities for Team Members ("TMs") of The Collier Companies. Each class is personally taught by Nathan S. Collier or a Senior Team Member and will allow each TM the opportunity to learn from Mr. Collier and gain valuable knowledge on how to change their lives and improve their professional skills.
The spring semester starts in January and runs until March. The course is designed to give each TM a balanced curriculum that focuses on the development of personal growth strategies and an overview of real estate transactions through case studies from The Collier Companies' portfolio. TMs will be given tools that they can use professionally and personally to envision and map out the future they wish to create for themselves. TMs will be given the opportunity to network across properties and departments through participation in group projects and break out activities. The course content is fluid and adjusted on a weekly basis to offer TMs real-time examples and material.
EVERY TEAM MEMBER
Whether your primary responsibilities revolve around service/maintenance, the community, IT, finance, acquisitions, asset management, human resources, accounting, facilities or marketing – you will benefit by enrolling in Collier College. Collier College is not only a tool for personal growth but participation and successful completion is a prerequisite to many advancement opportunities within The Collier Companies. TMs who wish to participate but can not commit to the full semester are encouraged to register. Any classes attended during this semester will be carried over into other semesters until the TM completes the entire curriculum.
BENEFIT TO ATTENDING
Recognition for future promotion opportunities within the company; Improved leadership and analytical skills; Light dinner/refreshments will be served; Jump start your forgotten aspirations, dreams, life and career goals.
GRADUATION REQUIREMENTS
Magna Cum Laude: Attend ALL eleven (11) classes and pass the final exam/presentation.
Cum Laude: Attend a minimum of ten (10) classes and pass the final exam/presentation.
COMMITMENT
Eleven Tuesdays
Mandatory participation in two introductory classes taught by Nathan S. Collier
Be present, ready and open to participate in an active learning environment
Complete final test/presentation