Published:
November 5, 2019
Continuing in their commitment to share knowledge within the housing industry through education, The Collier Companies, and their Founder, Nathan S. Collier, recently welcomed students from the Costa Rican Institute of Technology for their 3rd annual visit to Gainesville.
All Business School students, the special guests were welcomed into the city by the TCC Team, UF Warrington Business School & UF School of Journalism, Shands Hospital CEO, Edward Jimenez, and a host of other citizens eager to show off their Southern hospitality.
The students attended courses such as Introduction to Real Estate and Cultural Immersion, taught by TCC Founder/Chairman, Nathan S. Collier, for which the UF Masters of Real Estate program is named. Students were introduced to TCC Case-Studies, taken on personal tours of the University, and even welcomed to listen to the knowledge shared by Pulitzer Prize-winning professor, Ted Bridis.
"I learned SO MUCH. I think that I will arrive in Costa Rica tomorrow being a different person in many aspects. I'm so grateful with the Professor Patricia and Mr. Collier for this opportunity. And also, the relationship that I build with my classmates during the week was awesome." – Marialex, Costa Rica Institute for Technology student

"First, I would like to say when grateful I am with this opportunity, I know that not many people have the opportunity to live this experience. To be able to come to UF is to know a totally different world from the one we know in Costa Rica. I think I'm very fortunate to be able to live this experience. I'm also very lucky to have a professor like Professor Patricia. … And it is thanks to Professor Patricia that we got the support of Mr. Collier. Without Mr. Collier this trip would never have happened and I feel very grateful for the opportunity, this is a life-changing experience of a person and would never have happened without the support of Mr. Collier." – Kembly, Costa Rica Institute for Technology student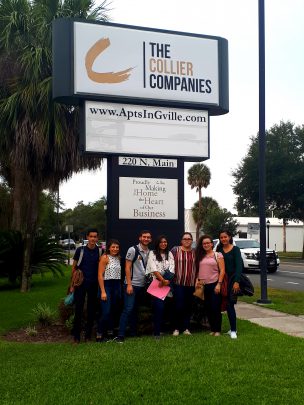 Nathan S. Collier and TCC are always ecstatic to host this annual visit, and are looking forward to the next!
Thank you to the University of Florida team along with Dr. Patricia Lopez Estrada from TEC for their knowledge!