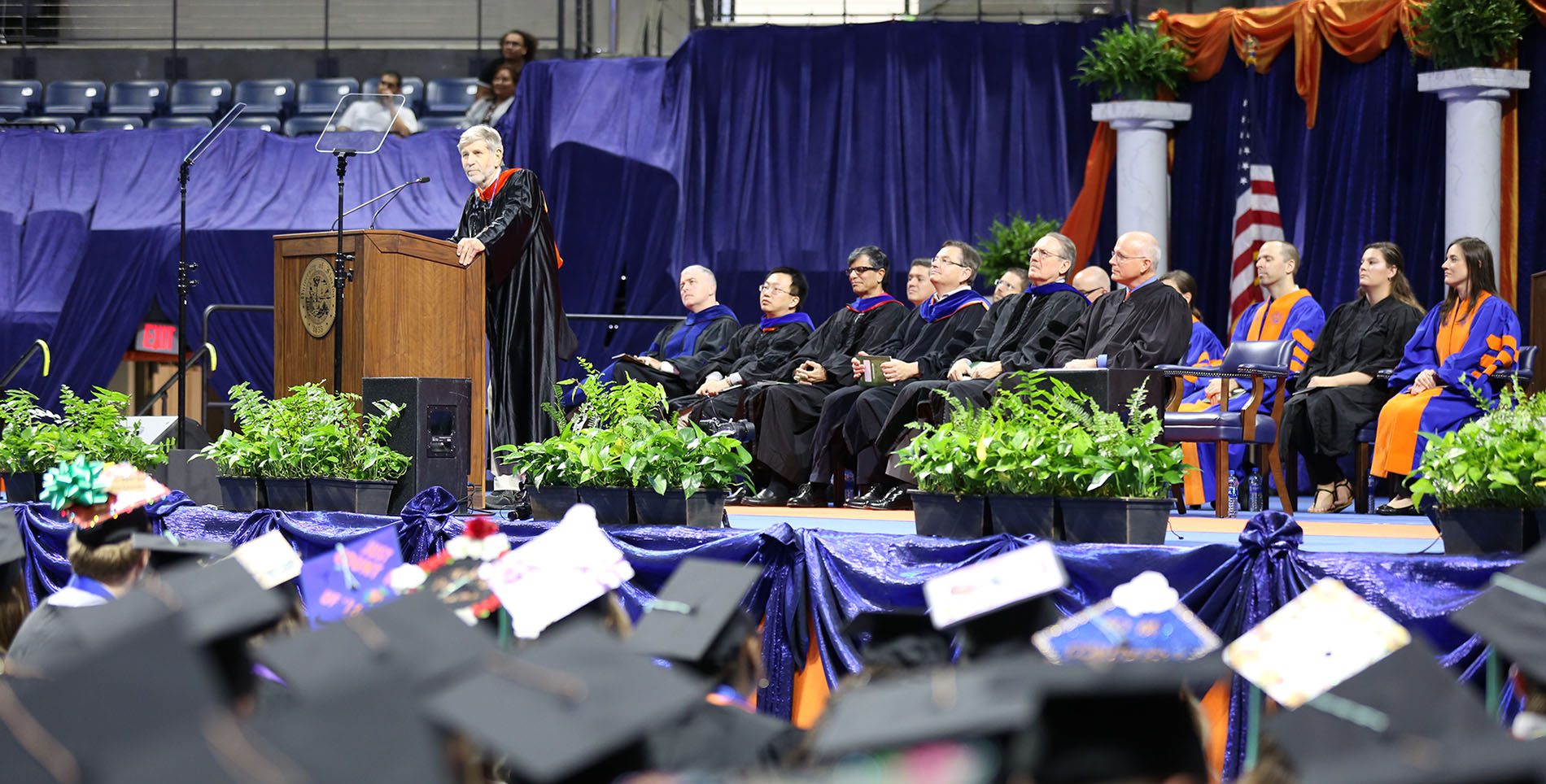 Published:
December 19, 2018
Graduates of the University of Florida's Warrington School of Business were treated to words of encouragement and wisdom by the three-time Gator Graduate at the 2018 Commencement Ceremony held on Sunday afternoon.  Founder & Chairman of the largest privately-owned Student Housing portfolio in the nation with over 11,000 units, Collier, with over 4 decades of business under his belt, has built and maintained his headquarters here in Gainesville, Florida.
With a passion for sharing knowledge learned, Collier shared with the graduates his Three Highest Leverage Behaviors that he uses personally to maximize his personal impact as a business person. Collier stressed to the new graduates how vital it has always been for him to maximize his impact by sharing the importance of creating a written plan, journaling and committing to becoming a continuous learner.
"Today is a momentous milestone! And yet the best is yet to be for your entire life lies before you, yours to create," said Nathan S. Collier, the energetic speaker who emerged from his seat and greeted UF Warrington Dean Kraft with a friendly fist bump prior to greeting the happy graduates and their guests at the momentous ceremony.
"Some goals and plans will be detailed, others will be more formless, but I assure you they will eventually come into greater focus," he explained. "Also, as you live life, grow and change, some goals will fade, others will appear. This is both normal and good."
Collier is a familiar name to many students in the UF Warrington program as the Master of Science in Real Estate program bears his name.  Collier also leads real estate classes with case studies from The Collier Companies portfolio to provide students with an opportunity to analyze real experiences from industry professionals.
No stranger to the University of Florida, Collier holds a bachelor's degree in finance, an MBA and a J.D. from the esteemed institute.  While a student in the winter of 1972, Collier purchased a single duplex with only $1,000 down and in less than 6 years had increased his personal portfolio to 25 houses in the historic College Park neighborhood.
Watch the Live Video Here!
Otherwise, here's Nathan S. Collier's Keynote speech with an introduction from Dean Craft:
---
Praise from a UF Business Graduate, Class of 2010
Kristen Hadeed, UF Warrington Class of 2010 graduate and Gainesville business owner and author, posted the following letter to NSC after his keynote speech at her graduation:
"As fate would have it, the graduation speaker that year was my first major client: Nathan S. Collier.
. . . Nathan held the number one spot on my 'people I wanted to meet' list. Not only was Nathan a UF grad, he was also a major financial contributor to the business school and one of the largest privately held owners of student housing in the country. I couldn't believe he was there, speaking at my graduation. Who better to learn from than a majorly successful CEO who made it in the same town I was trying to make it in?"
---
The Collier Companies owns and manages 11,271 apartment units in the states of Florida, Georgia, and Oklahoma.  For more information about The Collier Companies, please visit CollierCompanies.com.