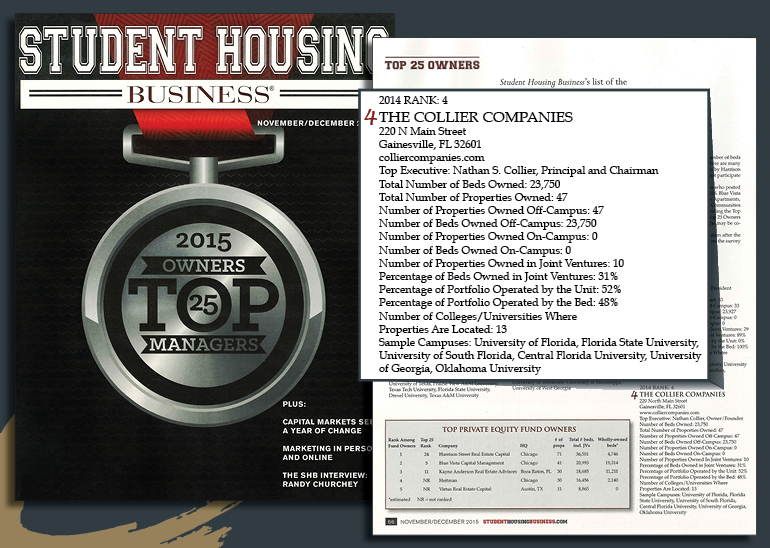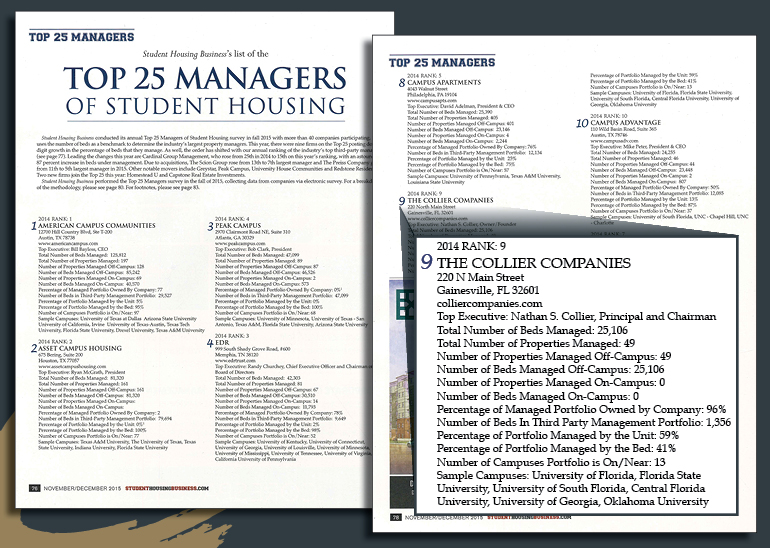 FROM SMALL ACORNS MIGHTY OAKS DO GROW
December 27, 1972 marked the humble beginnings of what we know today as The Collier Companies (TCC). On this day, Nathan S. Collier, our founder and chairman, purchased a single duplex in Gainesville, Florida with $1,000 down.
Championing the entrepreneurial energy that is deeply woven into our company culture, Nathan S. Collier began to further expand his real estate portfolio, acquiring three or four houses each year. He had built a strong reputation and had the support of individuals and lenders who trusted him with financing and timely payments. Collier had grown his portfolio to 25 houses in the College Park neighborhood north of The University of Florida, by January 1, 1980.
As a young investor, Nathan truly believed that he could "do more with less than others thought humanly possible," and he acted as the landlord, accountant, maintenance technician and groundskeeper in the beginning stages of his young company.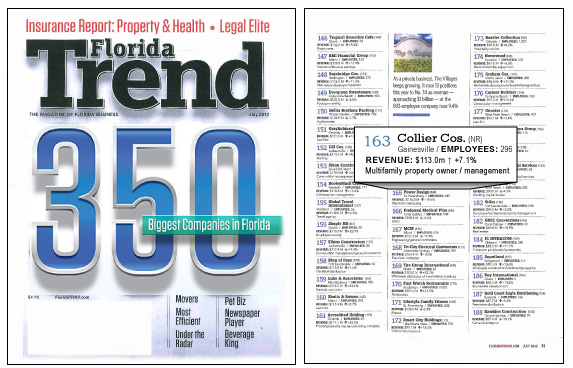 July 2012 – The Collier Companies is 163rd on Florida Trend's "350 Biggest Companies In Florida" list. Up 3 spots from 2011.
During this time, he was operating under the name "University Apartments and Phoenix Realty." This changed in September of 1989 as concentration and holdings in the College Park neighborhood grew to 426 units, and the company became "College Park Properties."
In the years to follow, Nathan's initiative and resourcefulness allowed him to reach many more milestones. This included the completion of his first development on July 1, 1991. "The Estates," which was a single two-story building with 21 units, pioneered luxury apartment living in College Park. He also acquired his first community outside of the College Park area, "Spanish Trace."
"The Purpose of an Organization is to create systems that enable ordinary people to achieve extraordinary results." – Nathan S. Collier
As the company developed further, the company culture did as well. Nathan realized more and more that his personal success was intertwined with the success of those around him, and he began to assume the mantle of great leadership. He began a never-ending journey of personal and professional growth, which instilled a deep love of learning into the heart of the organization.
As the company culture continued to mature, Nathan made a conscious decision to use
The 7 Habits of Highly Effective People, written by Steven R. Covey, as the cornerstone of his company's culture. This literature became so integral to our culture that in 1994, College Park Properties was re-branded to "Paradigm Properties" in an effort to further remind team members of the commitment and importance of being aware of the 'lens' through which they choose to view the world.
"Do not go through life; grow through life." – Eric Butterworth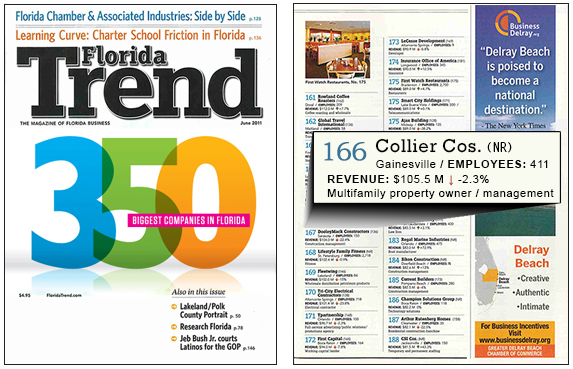 June 2011 – The Collier Companies is 166th on Florida Trend's "350 Biggest Companies In Florida" list.
On April 2, 1998 the company experienced significant growth with the acquisition of the Shey portfolio, which consisted of 7 communities and expanded Paradigm Properties' portfolio by 1,402 units. This was the largest single acquisition to date.
The addition of Gainesville Place on May 24, 2005 marked another milestone acquisition, as it was its first luxury, purpose-built student housing property of the portfolio. To finance this large community of 348 units and 1,296 beds, the company used it first institutional investor- GMAC Investment Corp., who helped grow the portfolio to 5,270 units.
As the company further expanded outside of Gainesville's city limits, it began to establish a regional presence and national profile. In 2009, our company again re-branded and "Paradigm Properties" became "The Collier Companies."
"Proudly Making your Home the Heart of Our Business"
Today, The Collier Companies is the largest privately owned provider of student housing in the nation. The Collier Companies' still-growing portfolio is comprised of 11,000+ units in Gainesville, Ocala, Tallahassee, Orlando and other Florida locations as well as Norman, Oklahoma, and Athens and Statesboro, Georgia. Our success can be attributed to our strong culture and a base of team members who believe in upholding an entrepreneurial energy and a life devoted to learning.
The Collier Companies thirsts for improvement. The Collier Companies is frequently pleased. The Collier Companies is NEVER satisfied.